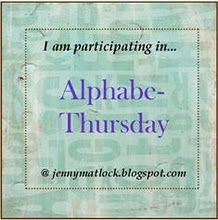 This Alphabe-Thursday is featuring the letter
J
as in
Just
. I don't mean the glorious adjective relating to all that is honorable and fair (though this is a great word), but "just" in the adverbial way.
I am promoting the usefulness and effectivity of the modifier "just." For example:
Just because...
(you're you)
Which is closely related to the wonderfully precious, "Just because I love you."
How about, "You look
just
the same." A thoughtful lie which I am happy to receive on any occasion in this season of my life.
And "just in time." Evidently the preferred arrival schedule of wizards in Middle Earth. But also relating to each individual's own life scrapes and circumstances, and especially nice when having to do with love....
No more doubt of fear I've found my way
For love came just in time
You've found me just in time

And changed my lonely nights that lucky day
Just in time


Just in Time
melody written by Jule Styne and lyrics by Betty Comden and Adolph Green. You can hear a bit of this 1956 song made popular by Tony Bennett
here
, rerecorded as a duet with Michael Bublé (
Duets: An American Classic,
2006).
There's "just a minute" (which conveniently means an undetermined amount of time, especially when spoken by a teenager involved in video gaming or an adult on a computer).
The ever popular silent, grumpy day response in our home.... "I'm just tired."
And the usually fun, though at times borderline, "just kidding."
So if you read through this blog and think I'm crazy to be participating in 3 Memes on Thursdays, remember that it's all...
Just for Fun
.
Speaking of "just for fun," I first encountered this on Facebook...
Jedi... another great J word!

Alphabe-Thursday is hosted by
Jenny at ...off on my tangent...
Jump over and check out the other J posts
here
.
The other 2 Memes I am participating in are
Thankful Thursday
&
Paint With Me
.
Love image

Noël Zia Lee
Bouquet of Roses image georgereyes
Time passes image CarbonNYC
Automatic doors image Valley Library (Oregon State University)
All images from Flickr Creative Commons. Automatic doors has been altered by me. If you would like to use any of these images please click the links above to see attribution requirements.